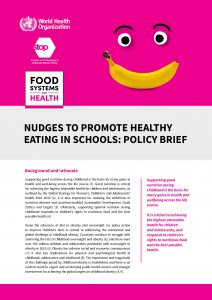 Starting today, policy makers may access new tools to help them direct and prioritize policy options in addressing childhood obesity and improving health across Europe.
The STOP Project and the World Health Organization (WHO) have developed a set of policy briefs to guide policy design and implementation through the maze of short and long-term factors that can impact policy success in the fields of health, attitudes to nutrition and promotion of physical exercise.
In the words of Francesca Branca (WHO), «often countries know 'what' they should do, but they are less sure about 'how' to do so». To this scope, the policy briefs developed address several areas considered crucial to improve health and maximise impact in shaping policy development and implementation in this challenging field. Each brief focuses on a specific aspect, providing key considerations, implementation frameworks, calls to action and, where relevant, country case studies.
Hot topics include: nutrition labelling, fiscal policies to promote healthy eating, reformulation of food choices, marketing restrictions, physical activity in schools, as well as nudge policies to promote healthy eating in child-populated environments.
The themes are a result of an evidence-based selection stemming from STOP's four years of extensive research on approaches to prevent childhood obesity and its related health risk factors.
The launch of this new policy toolkit has taken place in Brussels at the policy symposium Future directions for nutrition and physical activity policies to prevent NCDs across Europe, a conference jointly organised by four EU health- driven projects: STOP, CO-CREATE, PEN and Best ReMap.
Download the Press Release here
Download the Policy Briefs here
More about STOP here
More information on the Joint Conference Future directions for nutrition and physical activity policies to prevent NCDs across Europe here